So AC/DC finally announced their Black Ice Tour dates but your city was left out, huh? Well, take heart because you are not alone. They haven't announced any dates in Florida yet, either, and Brian Johnson and Cliff Williams live here!
Also, we all need to remember that this Fall schedule of shows is only the first leg of AC/DC's 18-month long world tour. So let's be patient and see what the boys have in store for the rest of the best fans in the world, eh?
Australian fans can take some comfort, though, as almost unnoticed in the recent news was a small
item
written by Paul Cashmere about AC/DC's plans for a trip back home to Australia:
"AC/DC will perform in Australia in 2009 at Telstra Dome in Melbourne and ANZ Stadium in Sydney."
No doubt AccaDacca will hit several more cities down under as well as visit all their great fans in New Zealand in the coming year, too.
Of course, some longtime fans have never seen the band perform live in person. Such is the case of Mike Grant, who writes about his AC/DC story in "
That's The Way I Want My Rock N Roll!
"
If you still want to read more about fans and AC/DC today, I suggest you check out "
She's Got Balls
" at The Soundtrack Of My Life. It's a brief, but poignant story about how one guy got introduced to AC/DC music.
Speaking of AC/DC's music, it would be remiss of me not to mention Rolling Stone's Fall
preview
of the Black Ice album. Though there's not that much to it, there is some good background information about how the new music was made from producer, Brendan O'Brien.
Of course, Black Ice has been compared to
Back In Black
a thousand times already and it hasn't even been released yet so, one has to wonder if it will really be that good? I guess time will tell...
By the way, what's your take on War Machine versus Rock N Roll Train? Do you favor one track over the other now that you've heard them both more than a few times? I hope you'll leave your opinions in the comments section below. I'd also be interested to know what other fans think the song War Machine is all about. Does it have anything to do with the war in Iraq? Has AC/DC made another political track like
Burnin' Alive
from the Ballbreaker album?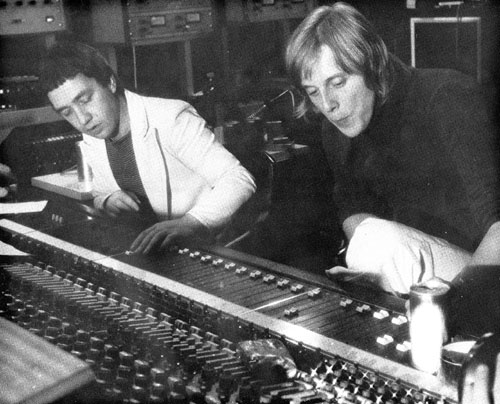 George Young and Harry Vanda
Lastly, for today,
Easy Fever
provides another history lesson for AC/DC fans who want to know more about the roots of our favorite band. For those that don't know already, The Easybeats were Australia's answer to The Beatles and two of their leading members were George Young and Harry Vanda, who later went on to produce most of the classic AC/DC albums of the 70's.
Keep rockin, Jon