Ever had
conjunctivitis
? Ever had it both eyes at the same time? Well, if you have, you might be able to understand why I haven't updated AC/DC News since Monday!
Anyway, what follows will be a quick rundown of all the news and related links to AC/DC I've found lately. Hope you find something here to entertain you while you wait for the band to invade your town on the Black Ice World Tour.
For starters,
AC/DC's Black Ice Debuts at #1 in 29 countries
! Billboard is
reporting
that the new album sold 784,000 copies in the United States alone in its first week of release. Additionally, Black Ice is the biggest selling album of the year in
Australia
and has been certified
triple platinum
there already. Reuters
commented
that AC/DC is 'back in black' with a global smash hit. AC/DC hasn't been #1 on the American album chart since 1981's For Those About To Rock, also according to
Billboard
.
According to the
Telegraph
, this is the first time in 28 years that AC/DC has topped the album charts in the UK. Interestingly enough, some are saying that AC/DC's rise to the top is a sure
sign
of bad economic times, particularly in
Britain
. The Guardian has, essentially, the same
story
on the odd coincidence but with a few more details.
Here's the latest
BBC album chart
and the latest
Australian
chart, by the way. The Globe and Mail
noted
that millions of illegal downloads didn't seem to affect AC/DC's album sales.
Spin Magazine had the best
review
of AC/DC's secret gig in Wilkes-Barre that I've seen so far. Billboard had a pretty good
story,
too. Though, for some odd reason, they seem to think that it's Angus Young who climbs the ropes of Hell's Bell.
FMQB
did a better job with their show review, however.
Reuters
noted the special event, as well. Paul Cashmere also filed this
report
about AC/DC's "secret" fan gig and
Stories in High Fidelity
briefly mentioned the show, too.
The absolute best review in terms of photos comes from this
AC/DC fan's page
and should not be missed, by the way. I also highly recommend
ArtVoice's
piece on the show, as well.
In other AC/DC tidbits...
Glen Boyd tells us his opinion on
Why It's Okay to Like AC/DC Again
in a rather good read.
Australia's Molly Meldrum completely wasted his trip to New York by only asking Angus and Brian the most general, boring questions I've ever hears in an AC/DC interview. Video below:
The Times Leader has a fairly interesting
story
about the AC/DC fan documentary that's scheduled to be on the band's next live DVD. Of course, most interesting is the notion that AC/DC will ultimately release a Black Ice Live DVD...
Hoodlum's Music has asked the pertinent question, "
Bon, Where Are You Now?
" in a response to AC/DC's marketing moves as of late.
There's a oddly fascinating illustration of Angus Young that was done for a German music magazine posted
here
.
Here's a Japanese
interview
with AC/DC that's been translated into Google English (or should I say Google Engrish...).
Adelaide Now has jumped on the AC/DC bandwagon with a story called
"AC/DC still shakin' all night long"
which might entertain you for a few minutes.
Music Radar has posted
13 idiotic AC/DC facts
though I'm not completely sure they're all true...
AC/DC's tour officially kicked off with the paperless ticket system on the 28th, according to
Ticket News
, and, personally, I'm wondering how smoothly that went?
If you're looking for YouTube users with decent video of the Black Ice Tour you might want to start
here
,
here
, and
here
though I'm sure there's much more out there I haven't seen yet.
USA Today had this
story
on AC/DC's official opening night launch of the Black Ice Tour.
The Scranton Times
' review included this huge
photo
of Brian and Angus, though.
The Weekender
had this to say, as well. Rolling Stone's
story
on the gig included the full set list; which turned out to be a disappointingly short 90 minutes, unfortunately.
Moons over Wachovia
might interest you also.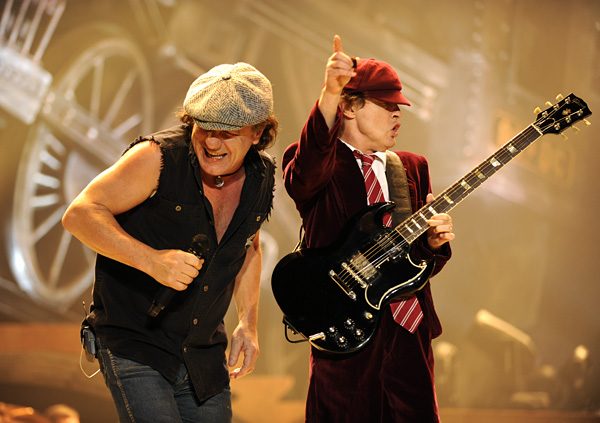 Slate, the political journal, has a very good article called
Still Current
on the thirty plus years of AC/DC.
Rolling Stone has published a feature story on AC/DC; a snippet of which they've posted
here
. As we told you a few weeks ago, AC/DC will soon be on their cover for the first time in the band's history. (Not counting Bon Scott's appearance on the Australian version of Rolling Stone.)
Black Ice is such a big hit that AC/DC's back catalog is selling even better than usual in the United States, according to
Reuters
. Billy Corgan of the Smashing Pumpkins voiced his opinion on AC/DC's marketing success
here
, by the way.
Here are the latest Black Ice Album Reviews:
AC/DC Strikes Back With Electrifying 'Ice'
All Music
Live Daily
Chordvine
Northern Star
Female First
Blog Critics
Back in Black Ice
San Antonio Express
iF Magazine
Tuscon Weekly
Cleveland Free Times
Lastly, for now, here's Angus talking about AC/DC's video history for MTV Germany.
Much more coming soon!
Keep rockin, Jon